PRODUCTS
Contact us
86 17344894490
---
Mobile:
86 17344894490
---
Email:
info@signialuminium.com
---
Skype:
signialuminio
---
Sales Office:
A126 Building 4, No.89 Science Avenue,National HI-Tech Industry Development Zone,Zhengzhou,Henan,China
---
Factory Address:Industrial District, Xin'an, Luoyang city, Henan Province,China
---
7075 Mirror Aluminum Plate
7075 Mirror Aluminum Plate
7075 Mirror Aluminum Plate is a cold treatment forging alloy with high strength and far better than soft steel. 7075 Mirror Aluminum Plate is one of the most powerful alloys for commercial use. With the heat treatment, it can reach a very high strength characteristics. 7075 materials generally add a small amount of copper, chromium and other alloys. Among the series, 7075-T651 aluminum alloy is particularly high-quality. It is known as the best product in aluminum alloy. It is high and far better than any soft steel. This alloy has good mechanical and anode reactions.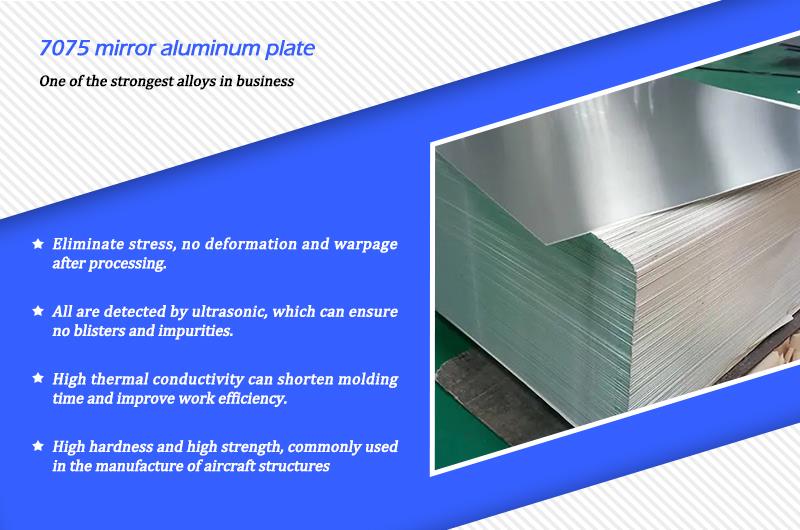 7075 Mirror Aluminum Plate mainly contains zinc. It also belongs to the aviation series. It is an aluminum, magnesium, zinc, copper alloy. It is a thermal treatment alloy, which is a super hard aluminum alloy. It has good abrasion resistance .7075 aluminum plates are eliminated and will not deform or warm after processing. The thick 7075 Mirror Aluminum Plate can be detected by ultrasonic, which can ensure that the high -gym noble and impurities. 7075 mirror aluminum plate can shorten the molding time and improve work efficiency. 7075 Mirror Aluminum Plate is a high -hardness, high -intensity aluminum alloy, which is commonly used in manufacturing aircraft structures and futures. It requires high stress structure and mold manufacturing with high strength and strong corrosion resistance.

    7075 Mirror Aluminum Plate is mainly used to make high -stress structures with high strength and corrosion resistance, such as airplanes, lower winged wall boards, sirs, etc. After solid solution treatment, the plasticity is good, the heat treatment effect is good, it has good strength below 150 degrees, and has a particularly good low temperature intensity, poor welding performance, and has a tendency of stress corrosion and cracking. It is also widely used in mold processing, machinery and equipment, tooling fixtures, aerospace and aerospace industry, blowing molding (bottle) mold, ultrasonic welding mold, golf head, shoe mold, paper plastic mold, foam molding mold, de -wafer mold, machinery, machinery Equipment, for making high -end aluminum alloy bicycle frames.