PRODUCTS
Contact us
86 17344894490
---
Mobile:
86 17344894490
---
Email:
info@signialuminium.com
---
Skype:
signialuminio
---
Sales Office:
A126 Building 4, No.89 Science Avenue,National HI-Tech Industry Development Zone,Zhengzhou,Henan,China
---
Factory Address:Industrial District, Xin'an, Luoyang city, Henan Province,China
---
Hammertone reflective aluminium sheet
Hammertone reflective aluminium sheet
Hammertone reflective aluminium sheet is made of mirror aluminum sheet, the surface is densely embossed with the size of beans. The astigmatism effect is strong and the reflectivity is as high as 86%. It is widely used in lighting and decoration industries.

Application of hammertone reflective aluminium sheet:
Lighting lamps, interior decoration, integrated ceiling, exterior wall decoration, household appliances panel, LED aluminum substrate
Electronic Shell, Furniture Kitchen, Automotive Decoration, Signage, Packaging, Solar Energy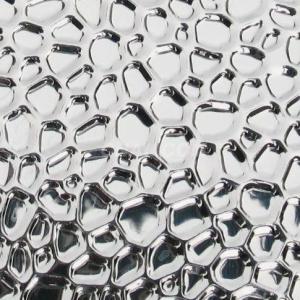 Technical data of hammertone reflective aluminium sheet :
Total reflectance: 86%
Diffuse reflectance: <12%
Mirror Reflectivity: 80%
Tensile strength: 125N/mm2
Yield strength: 105N/mm2
Elongation: > 2%
Hardness: H18)
Rainbow Degree: 2
Corrosion resistance: standard 5% NaCl salt spray test for more than 167 hours
 
Packing of hammertone reflective aluminium sheet:
Coil: Vertical wooden pallet packing. Outer fiberboard packaging, suitable for domestic inland transportation.
Sheet: Wooden box packing or wooden pallet packing.
 
Signi Aluminum has stock all year round, which can provide small sample experiments, open package slicing, longitudinal shear, stamping and other processing.