PRODUCTS
Contact us
86 17344894490
---
Mobile:
86 17344894490
---
Email:
info@signialuminium.com
---
Skype:
signialuminio
---
Sales Office:
A126 Building 4, No.89 Science Avenue,National HI-Tech Industry Development Zone,Zhengzhou,Henan,China
---
Factory Address:Industrial District, Xin'an, Luoyang city, Henan Province,China
---
Mirror finish aluminum sheet price
Mirror finish aluminum sheet price
Mirror finish aluminum sheet price depend on its reflectivity, the higher reflectivity the price is higher. Signi Aluminum have 86% reflectivity aluminum mirror sheet which is used for optical lighting, and super high reflectivity 96% is used for electronics, automotive, aviation and medical care. Its excellent light reflection performance will greatly improve the efficiency of lighting, optical and solar energy equipment utilization, improve product quality, prolong product life, effectively achieve energy saving, reduce energy consumption and other functions, to meet customer demand for high reflectivity of aluminum.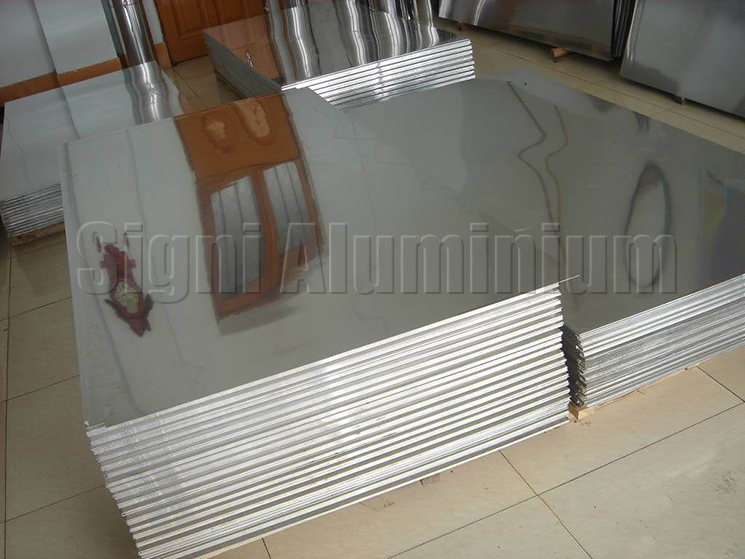 Mirror finish aluminum sheet price
depend on its surface treatment as well, anodized mirror aluminum sheet price is higher than rolled finish aluminum mirror sheet. Anodized mirror aluminum sheet products are widely used in air conditioning panels, switch panels and other household appliances. The surface effect of anodized aluminum sheet with metallic luster texture breaks the original plastic texture of ordinary household appliances surface, making household appliances products with unparalleled high-end quality.  
Mirror finish aluminum sheet price
depend on time durability as well, the longer time durability the price is higher.  
Henan signi aluminum offer different quality mirror aluminum sheet, which widely used for lighting, construction, electrical appliance, automotive and solar energy.